APNIC Hackathon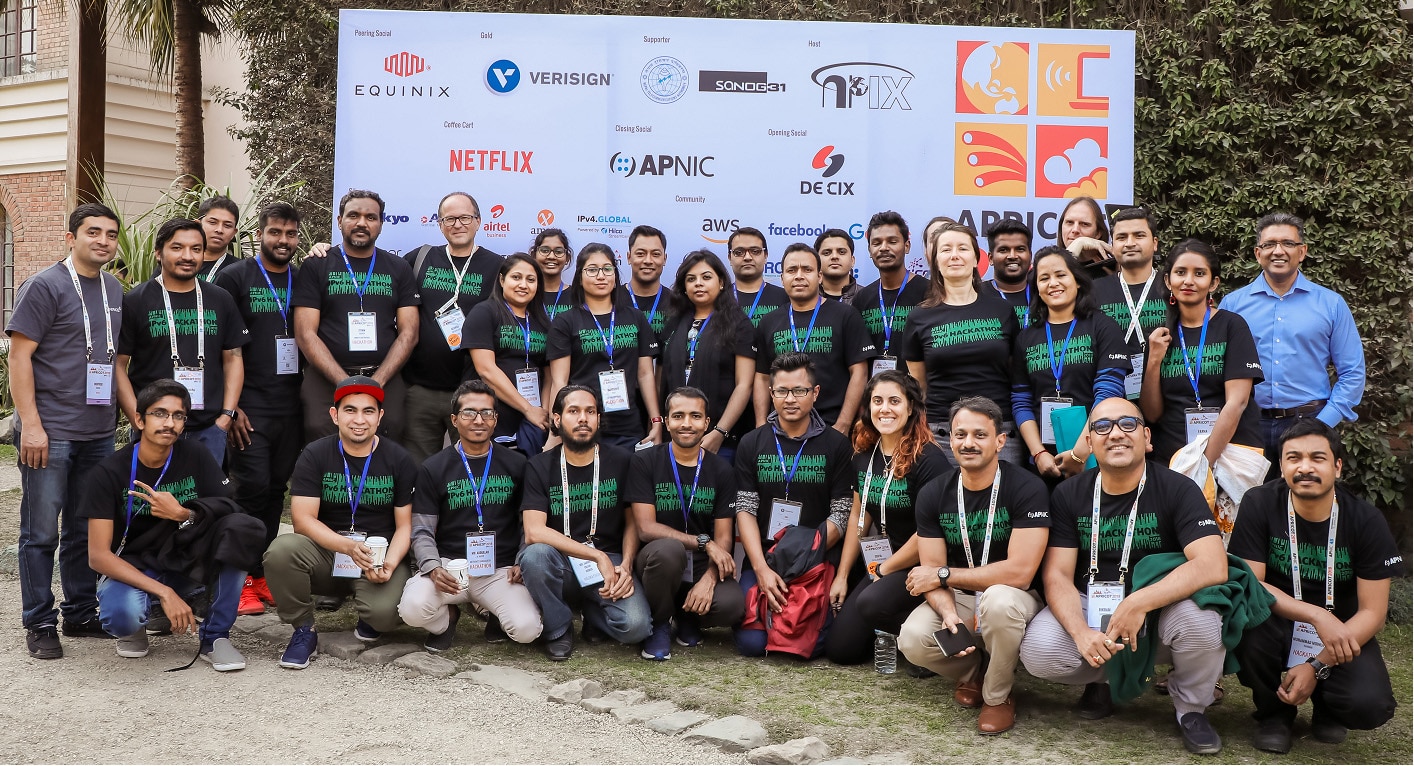 The 1st APNIC Hackathon at APRICOT 2018/APNIC 45, with support from RIPE NCC, was a great success, with 24 participants from eight different economies working collaboratively on IPv6.
The 2nd APNIC Hackathon, with the theme "A DRUM" (Addressing Delegation, Routing and Usage Measurement), will be co-located with APRICOT 2019/APNIC 47. Attendance to the 2nd APNIC Hackathon is free but limited to 25 participants.
Applications to participate are open to all. A committee will select the participants based on their skills, diversity and geographic spread. Participants do not need to know a specific programming language or technology, but must bring their own computer to the hackathon.
Why participate
Exchange ideas and points of views about topics related to Internet measurements and Internet infrastructure
Work with other Internet professionals
Learn new skills
Participants will receive a APNIC hackathon T-shirt, certificate of participation and assorted prizes. Teams with the most interesting results will get the chance to present their project during the conference in the lightning talks session.
Who should apply
Informatics professionals (Developers, testers, designers, etc.)
Telecommunications professionals (Networks/Telecoms engineers, networks administrators/operators, etc.)
Researchers working on Internet measurements, networking or similar projects
Advanced students of technology degrees
Topic: Addressing Delegation, Routing and Usage Measurement (A DRUM)
It's widely accepted that "what gets measured gets managed", although nobody is sure who said this for the first time. The second APNIC hackathon will look at measurement around Internet number resources: delegations, routing and usage.
More details will be discussed and provided at the hackathon introduction session on Friday, 22 February 2019.

APNIC thanks Facebook for sponsoring the hackathon.
Publishing Projects
Participants must publish the source code they develop during the hackathon on GitHub under an OSI (Open Source Initiative) approved license. GitHub Terms of Service are available here.
In case participants do not have a GitHub account, their developed source code will be published by APNIC under a GPL license.
Moderators
| Name | Role | Organization |
| --- | --- | --- |
| Sofia Silva Berenguer | Product Manager - Information Services | APNIC |
| Srinivas (Sunny) Chendi | Senior Advisor Policy and Community Development | APNIC |
Jury and Mentors

| Name | Role | Organization |
| --- | --- | --- |
| Yongsuk Choi | Director, Infrastructure - APAC | Facebook |
| Philip Paeps | Senior Reality Engineer | The FreeBSD Foundation |
| Simon Sohel Baroi | Assistant General Manager | Fiber@Home Global Limited |
| Anurag Bhatia | Network Researcher | Hurricane Electric |
| George Michaelson | Senior R&D Scientist | APNIC |
| Brad Hosking | Business Information Technology Manager | APNIC |
| Romain Fontugne | Senior Researcher | IIJ Innovation Institute |
Participants

| First Name | Last Name | Gender | Economy |
| --- | --- | --- | --- |
| Aris Cahyadi | Risdianto | Male | Indonesia |
| Boldbayar | Jantsan | Male | Mongolia |
| Hyungjin | Lee | Male | South Korea |
| Hyunsu | Mun | Male | South Korea |
| JaeJun | Lee | Male | South Korea |
| Kensly | Joses | Male | Vanuatu |
| Minseok | Jang | Male | South Korea |
| Muhammad Moinur | Rahman | Male | Bangladesh |
| Nyamlkham | Badam | Female | Mongolia |
| SooHyun | Kim | Female | South Korea |
| Sudhatma | Karki | Male | Nepal |
| Tarau | Bauia | Male | Kiribati |
| Ulsbold | Enkhtaivan | Male | Mongolia |
| Vladimir Axl Von Carlo | Zurbano | Male | Philippines |
| Warrick | Mitchell | Male | Australia |
| Yeshi | Peldon | Female | Bhutan |
| Yohani | Ranasinghe | Female | Sri Lanka |
For more information, contact the Hackathon team at conference@apnic.net
Sponsors